Snow may still be on the ground and your car temperature gage read 10 degrees this morning, BUT today does mark the first day of Spring.  That means gardening season is fast approaching! Landscaping can be hard work, but really it is a labor of love.
Maybe you don't have the greenest thumb… but that's ok!  You can choose plants that are easy to care for and come back year after year. Perennials are plants or flowers that live for more than two years.  They blossom in the spring and summer before dying during the fall and winter.  We've picked a few of our favorite flowers and plants that have adapted to the changing Minnesota seasons.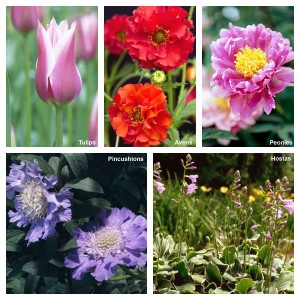 Peonies – Peonies bloom mid- to late spring and come in shades of pink, red, white, and yellow.  They grow best in sun or partial sun and are easy to care for.
Hostas – This common plant thrives in all sun, partial sun, and shade. With a height of up to 5 feet and width of 4 feet, Hostas are easy to grow and fragrant.
Pincushion – The lavender blue, pink, or white flowers of the pincushion grow best in the sunlight.  They bloom early summer to early fall.
Tulips – Not only are they beautiful, they're easy to draw!  Tulips bloom best in the sun and partial sun and grow up to 2 feet tall.  These flowers come in many colors such as purple, pink, white, orange, red, yellow, and more.
Avens – This brightly colored round flower does best in the sun in well-drained soil.  They grow up to 2 feet tall and 2 feet wide.
When choosing flowers, it's important to consider the USDA Plant Hardiness Zones.  Minnesota falls in zones 3a-5a, so flowers designated for these zones will thrive best in our climate.  For more plants and information, head to Better Homes & Gardens for an extensive list.
Images from Better Homes & Gardens