This 4,951 square foot home in Credit River Township (Prior Lake), MN is the perfect amount of space for an active family.  With 5 bedrooms and 4 ½ bathrooms, there is plenty of room to grow your family or host extended family holidays without worrying about not having enough space!  Below are a few of our favorite custom features in this home:
GREAT ROOM – Walking into the great room, your eye will immediately be drawn to the sheetrock beams.  It is unique features like this that add an extra touch to the space and increase visual appeal. Another eye-catcher in the space is the contemporary fireplace.  A great space to spend time with your family and stay warm in our cold Minnesota winters!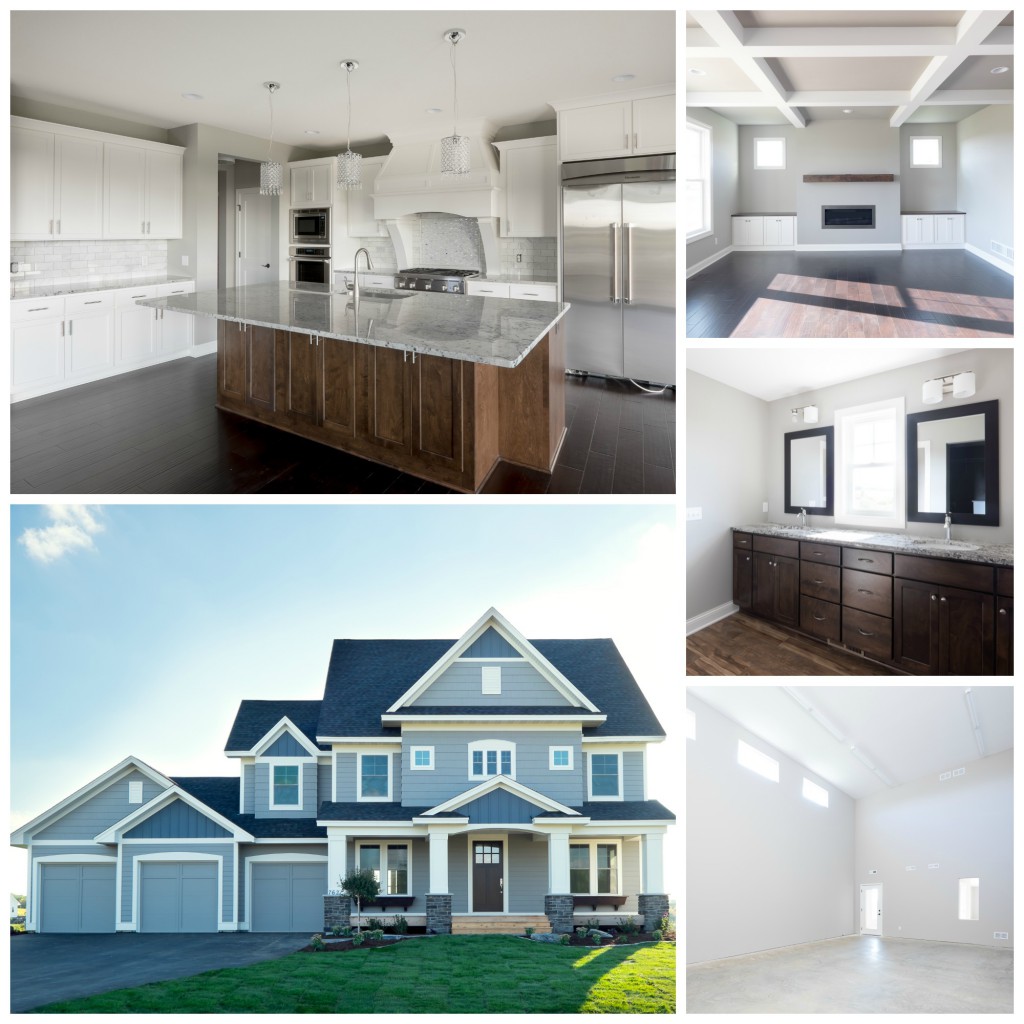 KITCHEN – Mixing stained and enameled finishes has become more common in the housing industry.  In this particular home, you will notice the mix of stained and enameled with the oversized stained center island and the custom white enameled cabinetry.  Complete with a custom backsplash, unique wood hood and elegant pendant lighting, this kitchen is truly unique.
SPORT COURT – One of the more unique features is the in-house sport court.  Designed as an extension of their lower level, you would never predict to walk into a spacious 30' x 22' sport court with soaring 19' ceilings. It is the perfect addition to a custom home.  Who needs a gym membership when you can just add in a space that can be used any time of day for sports and activities in the comfort of your own home!
MASTER SUITE – Equipped with a large walk-in closet, oversized walk-in shower, granite countertops, and a sitting room finished with a cathedral vault, this space becomes the perfect getaway for homeowners. An added bonus is the access to the upper level laundry off of the master suite, adding ease and convenience for the owners.
MUDROOM –Essential for maintaining organization, an expansive bench with open cubbies below is perfect for basket storage and organization. Adding another detail is the hookstrip coatrack that's a great solution for your organizing needs without adding individual locker spaces.
As we are building other custom homes in the south metro area, we are seeing numerous other custom features.  Our homes are built to fit the needs of each individual homeowner so no two houses are alike!  For more photos on this house, visit our Photo Gallery or inquire to info@homesbytradition.com