If you're from the Minneapolis-St. Paul area, you no doubt already know all of the great benefits from living in this Midwestern hotspot. Perhaps you're thinking of a move from elsewhere in Minnesota or the surrounding states.  Or maybe you're relocating for a job or spouse.  No matter where you are or what your situation, we've complied a list of some of the best reasons to live in the Twin Cities.
1) We get physical.  Minneapolis is consistently in the top spot on lists for the fittest, healthiest place in America (Huffington Post).  With an abundance of parks, trails, and various outdoor activities, there is something for everybody!  Not only that, the Nice Ride system allows you to bike virtually anywhere you want to go.
2) There is beauty everywhere.  The Twin Cities are a bustling metropolis, but there are still many aesthetically pleasing sights such as an abundance of trees and bodies of water.  The Mississippi river and lakes contribute to the options for scenic views all over the cities and suburbs.  And yes, Minnesota is the land of 10,000 lakes!
3) We are a little bit dramatic.  …no, no, no not in a bad way!   Minneapolis is only second to New York City for the number of theatres per capita.  There is always a play, opera, or Broadway show to catch at any given time.  Not to mention the concerts and other shows hosted by the Xcel Energy Center, Target Center, and Target Field, among other venues.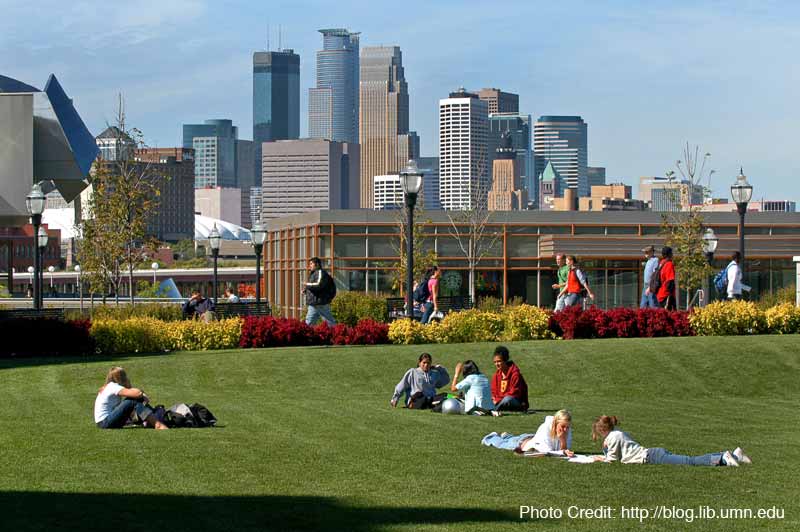 4) We're sporty.  Minnesota boasts five main sports teams: The Minnesota Twins, Vikings, Timberwolves, Lynx, and the Wild.  The University of Minnesota also is home to the Minnesota Gophers, a Big Ten competitor, along with many other schools and university's teams.
5) There are a variety of cultures.  The Twin Cities are home to people from all over the world, from your Nordic heritages, to Africa, Asia, and everywhere in between!  Our "Minnesota Nice" welcomes individual differences with events such as the Polish Festival, IndiaFest, and Oktoberfest.  Explore all the world has to offer right here in you hometowns!
6) We are "Minnesota Nice".  We mentioned this in number five, but the concept is worth its own section.  Minnesota and the Midwest in general are known for being hospitable and kind.  Neighbors in the Twin Cities are always open to giving each other a helping hand and being proud of where we come from and thrive.
7) We're employed.  Minnesota's job growth has topped pre-recession levels and is one of the best cities for college graduates to find employment. (TwinCities.com, Forbes,  & MSN)
It seems many who have grown up in the area either stay or eventually return, so why not join them?  We Minnesotans are happy, healthy, active, and proud of our state!  So, if you haven't already, come see what all the fuss is about! You won't be sorry.
Now, if you are looking to relocate from another state or even just down the street take a look at our photo gallery of homes!  Or perhaps you are looking for a quicker delivery home, visit our sister builder's move-in ready homes!