For those of you who spent your Covid lockdown entirely at home with your families, perhaps your only place of refuge was the closet, patio or garage. In our new world of health and well-being, wouldn't it be nice to escape to a luxury bathroom that makes you feel ahhhhhhh-some anytime?  Here are six ideas to help you do luxury:
Natural Connection
A recent Bloomberg.com report says designers are big about creating bathrooms with a view. Whether it's your tub, sauna, shower or toilet, find an ingenious way to bring the outdoors in with expansive windows or a skylight to refresh, renew and surround yourself with natural light.
Bold Statements
The bathroom is a place to go bold. Materials and material mixes add visual stimulation to your space. Larger-scale patterns on wallpaper, many with outdoor themes add a sense of escapism. Show them off with a colored floor or ground yourself in graphics with a hint of metallic.
Bath Jewelry
Many homeowners have an affinity or appreciation for good hardware. While bronze has been fizzling in popularity, matt black and polished gold epitomize luxury. Like jewelry, the knobs, pulls and door handles can be the perfect accent.
Spa Sanctuary
Since the thought of spending time in a communal steam room is far less appealing that it used to be, homeowners are incorporating spa-like amenities into their bathroom. From steam showers and saunas both regular and infrared, there seems to be fewer jetted tubs but deeper soaking tubs.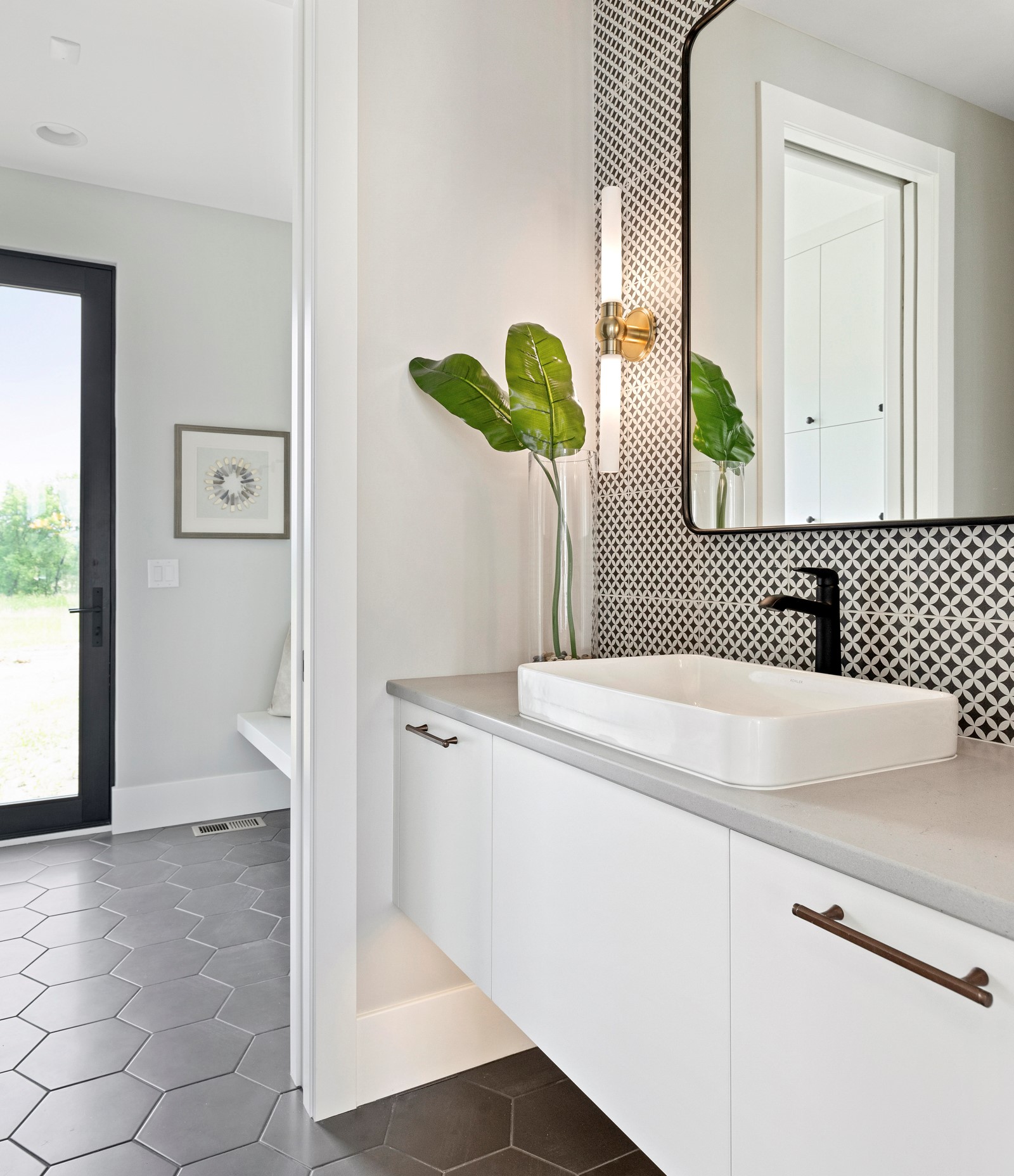 Smart, touch less, and customizable
Now that we're all more conscious of the surfaces we touch, it's no surprise that automation has made its way into the bathroom via lighting, faucets and toilet seats. Heated seats and bidets are also high in demand as are water filters, air purifiers and heated floors. That feeling of warmth that hits your feet first thing in the morning can be the ultimate indulgence.
Refined, unseen luxury
For the less glamorous aspects of a bathroom like trashcans and towel storage—discretion is key. For example, put a hole in your vanity to act as concealed trash chute.  The luxury of refined placement or, what "isn't seen," is becoming popular. It keeps your space looking tidy.
Ready to create your new luxury  bathroom escape? 
.