With today's open floor plans, the kitchen in your home has become a focal point.  Large, open kitchen designs are being designed to fit each homeowner's style in new construction and renovation projects.  Here are some kitchen designs that are trending throughout the housing market:
Most homeowners have closed off cabinets that hide their dishware and kitchen items.  We are starting to see more and more homeowners choose to add some open shelving to their kitchen space to display their favorite kitchen items.  If you are someone who keeps your stored kitchen items organized, this look can be a great option to give your kitchen a unique look and open feel.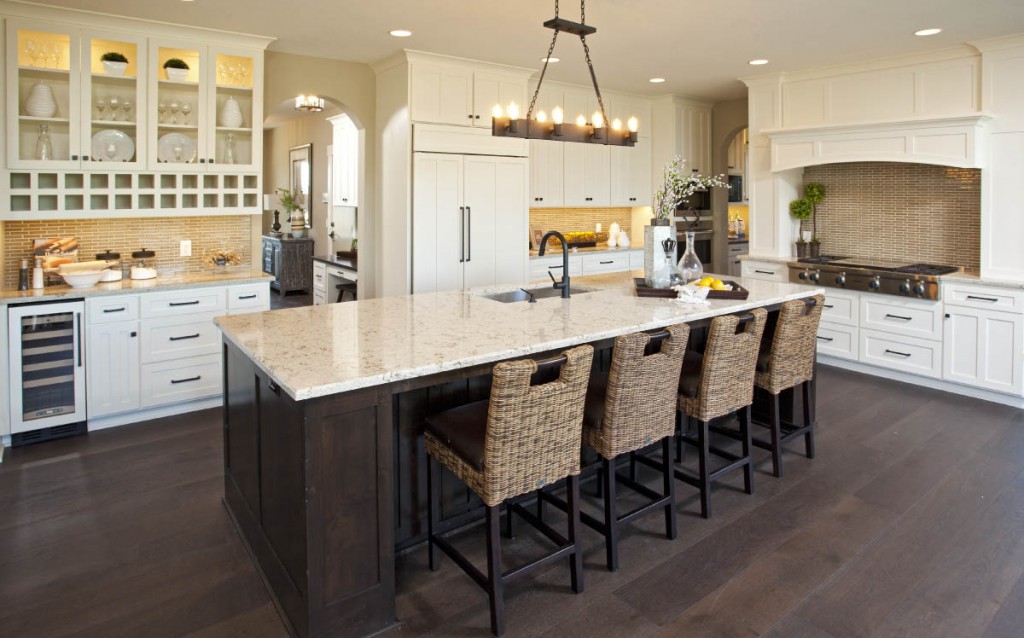 CENTER ISLANDS
Your kitchen island is the perfect place to add a pop of color or personality in the space!  Paint your center island a different color than your cabinets for a fun splash of color, or make your island a furniture-style piece instead of the traditional island look. Either one of these options will give your space a personal touch that is true to your family's style!
FARMHOUSE SINKS
Farmhouse sinks, otherwise known as apron front sinks, have become increasingly popular over the past few years.  Check out our sink blog for different styles of apron front sinks and the pros and cons to each type!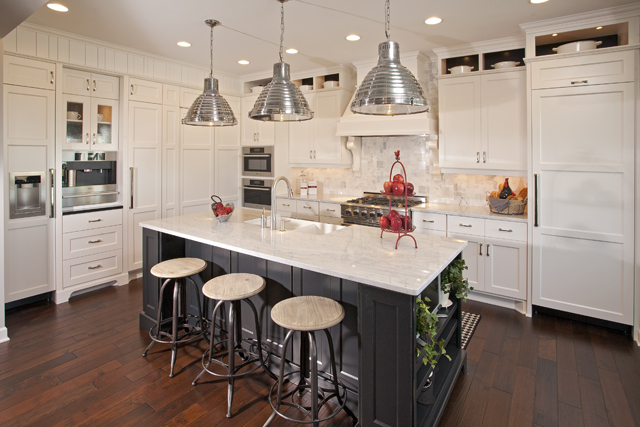 BUILT-IN APPLIANCES
For those of you that don't like the look of your appliances, there is a solution for you!  Homeowners are incorporating "hidden" appliances into their kitchens to maintain a cohesive look by adding cabinet faces with their kitchen cabinetry.  This feature in your kitchen is sure to "wow" your guests and impress your visitors!
HIGH TECHNOLOGY
Everything is getting more and more technical, including kitchen appliances!  Touch activated faucets, ovens that cook your food faster, and refrigerators that can inventory what is in your fridge and send you alerts when they are about to expire, are all features that are available to homeowners in the market for new appliances.  There are even appliances on the market that allow you to operate their controls from your cell phone!
SMART STORAGE
In every kitchen, there is always that awkward corner cabinet or extra blank space that makes storing your kitchen items difficult.  Kitchen cabinet designs are now using smart storage techniques to ensure homeowners will be able to use every inch of their cabinet space without any problems.  A few options for smart storage are built-in spice racks, lazy susans, and vertical pan storage.
Which of these trends would you like to incorporate in your new kitchen or kitchen renovation?  There are so many options when it comes to kitchen features that it may be difficult to decide which features are your favorites!  Trends are always changing, so come back periodically and check out our PHOTO GALLERY for pictures of our custom homes.